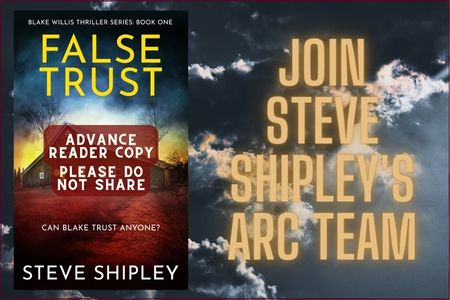 Do you love reading crime thrillers? If so, would you like to be an ARC reader for False Trust releasing August 9th?
I'm very excited to share this book with readers and you can get an Advance Reader Copy to read it before everyone else. You can request an ARC copy by
clicking this link.
If return for the ARC, I ask that you leave a review on Amazon and Goodreads for the book when the books are listed on those platforms, and if you catch any typos (I have an awesome editor and proofreader, but sometimes certain things slip through) to please report back to me and let me know so they can be corrected.
Please do not share the book content elsewhere, and of course, any promotion of thebook by sharing your reviews is great. If you enjoyed the book, please tell your friends.
I have created a
Facebook ARC & Launch team group
you can join as well. The purpose is to share information easily among ARC readers, including schedule updates, events, and other activities. Click here to join the
Facebook Group
.
And finally, here are some video trailers for the book so you get a taste of what it's about. Just click the video and it will play automatically. And there are more video book trailers on my website for you to watch.
#deannasworld #crimetok #thrillertok #crimethriller #falsetrust #comingsoon #booktrailer #authortok ♬ original sound – Deanna's World
@steveshipleyauthor #falsetrust #booktrailer #whisky #whiskey #crimetiktok #crimetok #thrillerbooklover #bookworm #thrillerbooks #comingsoon ♬ original sound – steveshipleyauthor
And if you've made it this far, here's some Blake Willis Thriller Bonus Content.
I look forward to sharing my book with you.